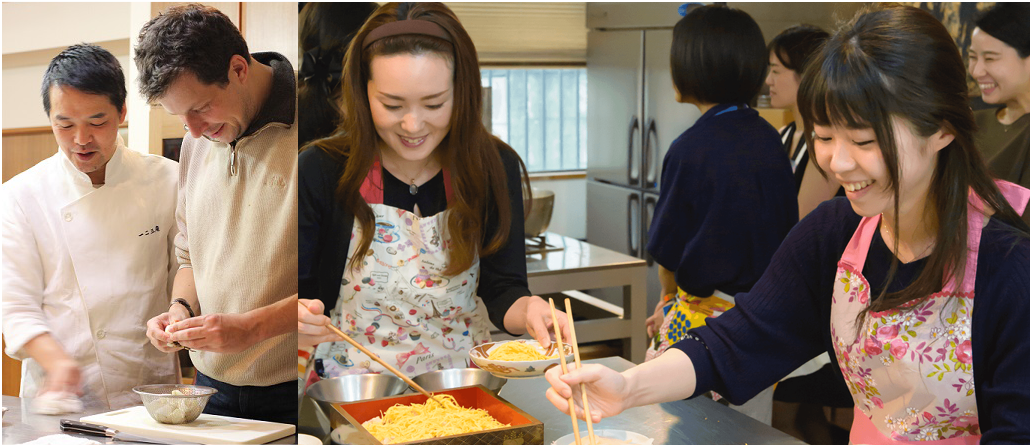 Salon de Hifumi-an offers International courses for foreign attendees to whom interested in Japanese culture and cooking. In each course, there will be an interpreter, and you will enjoy the master chef's demonstration and hands-on training.
*Please contact us for further details. *We also offer non-international course with interpreter for visitors who would like to attend the courses.
Please contact us for more details. (Interpreter fee is non inclusive)
For Hotel concierge, travel agents, international corporate secretaries
At Salon de HIFUMI-AN, we offer various courses for a overseas guests to experience Japanese culture.  Please do not hesitate to contact us for an arrangement.
Tel. +81-(0)3-5228-2272 ( Japanese only )
Mail : 123@hifumi-an.com ( English )
What made you want to join the lesson at Hifumi-an?

classLearn more about Japanese food, the culture.Also a chance to meet people and share the experience together.
enjoy cooking, and wished to learn authentic Japanese recipes.
I wanted to learn Japanese cooking and the eating culture of Japanese people.

What do you think is attractive about Hifumi-an?

he staffs are very friendly and the school and dishes are presented very beautifully. The food is delicious.
riendly environment. Teacher is patient, food is delicious but not too complicated so I can cook at home.
The setting is large and open and in a nice neighborhood.

What do you want to achieve in Japanese cooking?

wanted to observe a professional chef at work and learn about local seasonal ingredients and be able to make Japanese dishes at home.
To learn all the basic Japanese cooking skills and can recognize the ingredients.
Learn the basics to that I can try them at home. I also want to learn about different vegetables, spices and ingredients so that. I can go shopping without a problem !